New card release dates
Jean Grey: Already in the game (released on 7/11)
Echo: 07/18
Legion: 07/25
Mirage: 01/08
New Cards Review
Jean Grey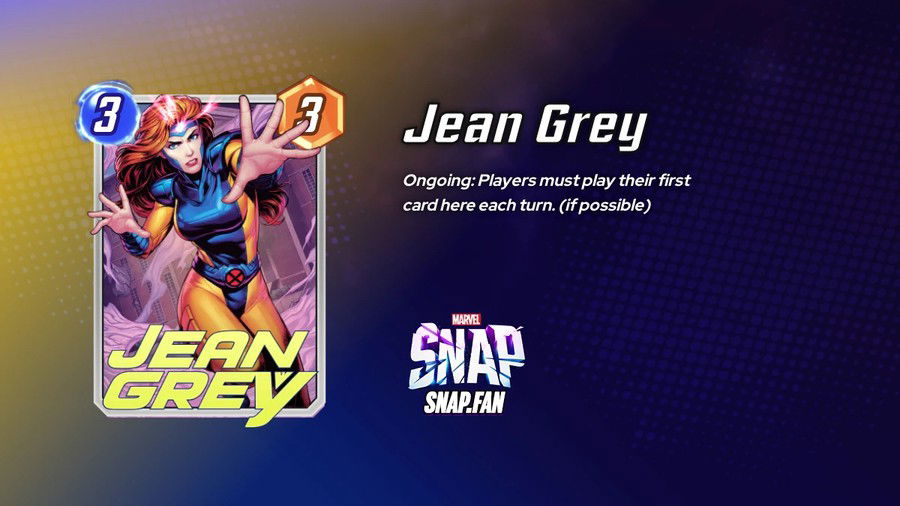 Jean Grey is already in the game and has arrived strong, offering a lane control and restriction tool. She has excellent stats and can work in a wide variety of decks such as Silver Surfer, Sera Control, and Guardians of the Galaxy lists.
There was a time when Cosmo was one of the most popular 3 drops in the game, and I dare say that Jean has everything to be its successor - and it is very likely that she appears a lot in games and messes up the meta.
Echo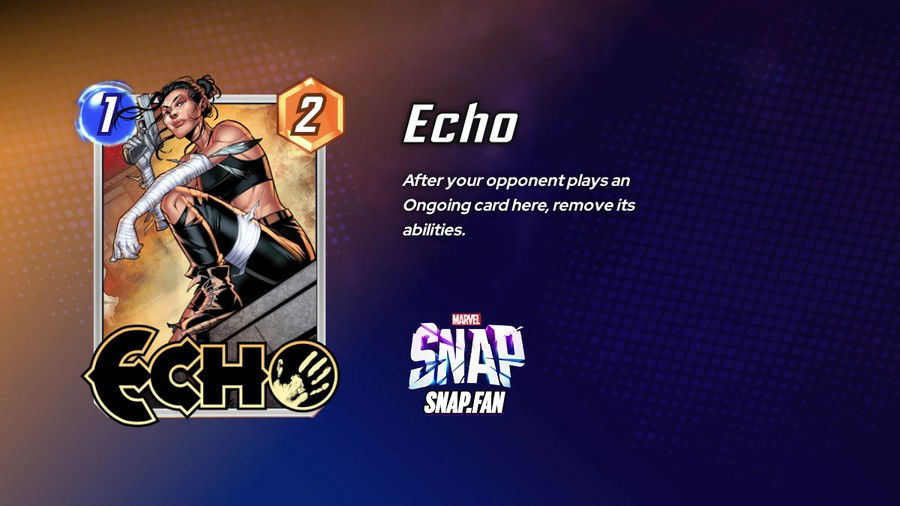 It's always great when they bring new one drops into the game, but unfortunately Echo isn't as interesting as some of the latest releases at that cost.
Its ability is strong, but it's easy for the opponent to dodge it (just don't play an Ongoing card in its location), so in the end, Echo is just a 1 drop with 2 power, and there are already better options with these statuses.
Legion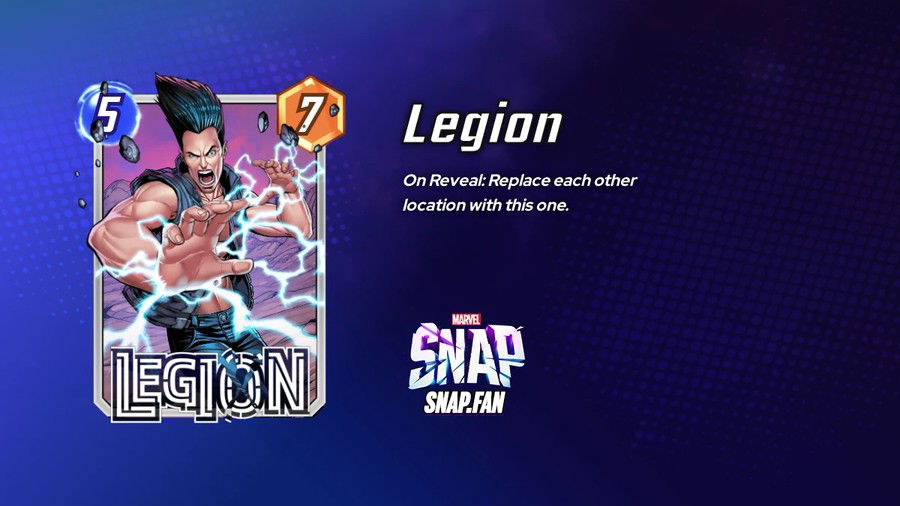 I hope I'm wrong, but Legion gives me the vibe of being one of those cards that is seemingly very strong in theory, but in practice, it's quite a meme.
It reminds me of Kang, which was greatly overrated at launch and then completely disappeared. At least Legion has 7 power, so if all else fails, he still provides a good source of raw power.
Mirage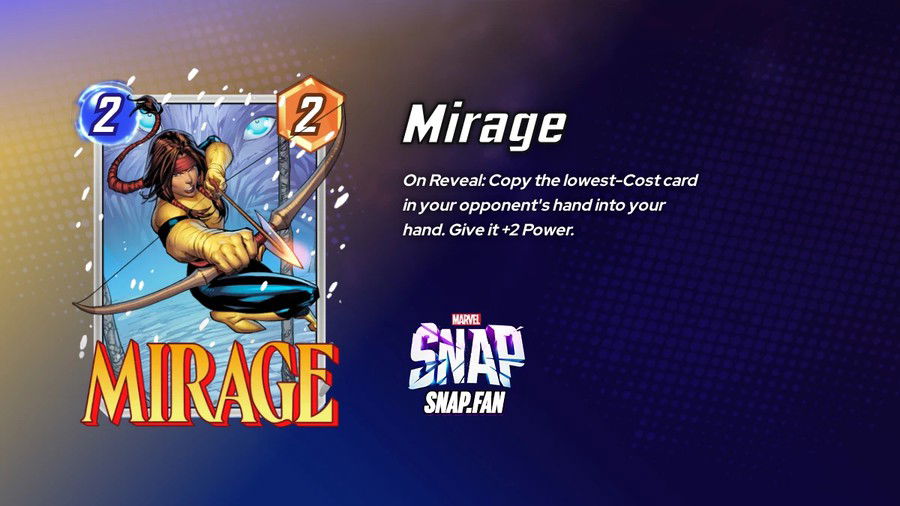 Cards like Cable and White Queen, which not only convey information about what the opponent has (or will not have, in Cable's case), but also bring extra resources to your hand, are very strong and Mirage is even more interesting than the aforementioned cards. In addition to bringing information about the lowest cost card in your opponent's hand, it also copies it with +2 power.
I can see Mirage being a hugely powerful addition to decks that carry Devil Dinosaur, Collector, and Quinjet, and I also believe it could see play in decks of the Bounce archetype.
Decks with the new cards
Jean Grey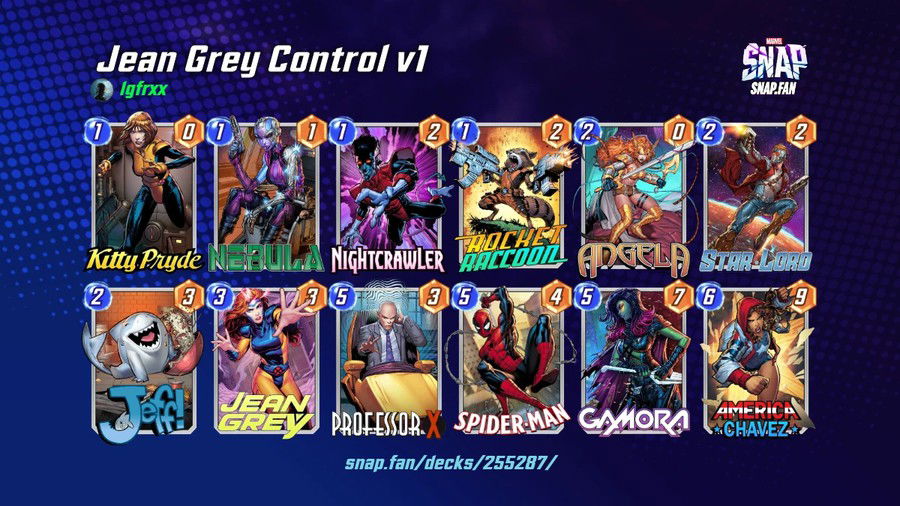 Code:
eyJOYW1lIjoiSmVhbiBHcmV5IENvbnRyb2wgdjEiLCJDYXJkcyI6W3siQ2FyZERlZklkIjoiS2l0dHlQcnlkZSJ9LHsiQ2FyZERlZklkIjoiTmVidWxhIn0seyJDYXJkRGVmSWQiOiJOaWdodGNy YXdsZXIifSx7IkNhcmREZWZJZCI6IlJvY2tldFJhY2Nvb24ifSx7IkNhcmREZWZJZCI6IkFuZ2VsYSJ9LHsiQ2FyZERlZklkIjoiU3RhcmxvcmQifSx7IkNhcmREZWZJZCI6IkplZmZUaGVCYW J5TGFuZFNoYXJrIn0seyJDYXJkRGVmSWQiOiJKZWFuR3JleSJ9LHsiQ2FyZERlZklkIjoiUHJvZmVzc29yWCJ9LHsiQ2FyZERlZklkIjoiU3BpZGVyTWFuIn0seyJDYXJkRGVmSWQiOiJHYW1vcm EifSx7IkNhcmREZWZJZCI6IkFtZXJpY2FDaGF2ZXoifV19
This deck has several affordable cards to be able to play them first in Jean Gray's location and thus free up the other locations. Rocket Racoon, Star Lord and Gamora benefit from Jean's ability, as the opponent (while not filling the location) will have to play the first card in Jean's location, so it is easy to activate the Guardians of the Galaxy's abilities.
Another interesting strategy is to play Nebula in one place and Jean in another, because if the opponent doesn't have so many card options to play, they will only play in Jean's place and Nebula will earn some points. In addition, it is possible to combine Jean with Spider-Man and lock your opponent's turn 6 play.
Echo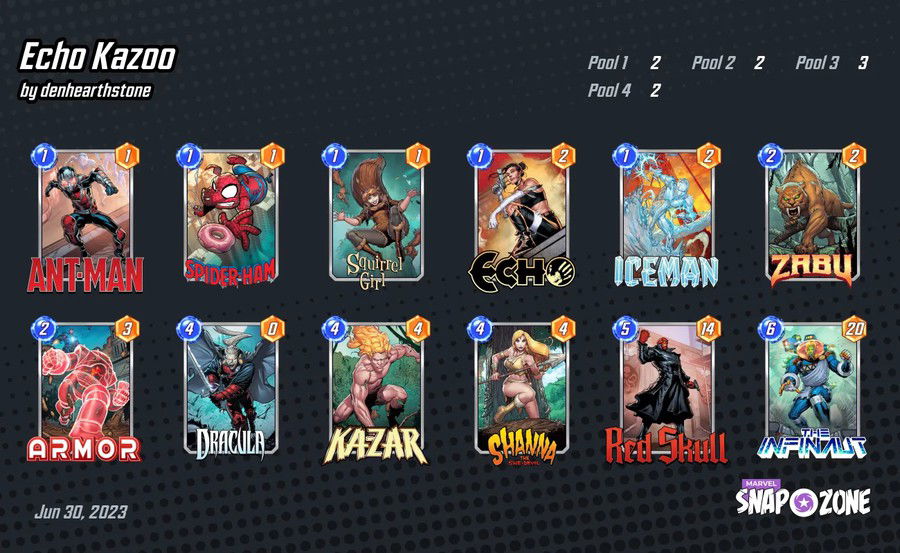 Code:
eyJOYW1lIjoiRWNobyBLYXpvbyIsIkNhcmRzIjpbeyJDYXJkRGVmSWQiOiJBbnRNYW4ifSx7IkNhcmREZWZJZCI6IlNwaWRlckhhbSJ9LHsiQ2FyZERlZklkIjoiU3F1aXJyZWxHaXJsIn0seyJDYX JkRGVmSWQiOiJFY2hvIn0seyJDYXJkRGVmSWQiOiJJY2VtYW4ifSx7IkNhcmREZWZJZCI6IlphYnUifSx7IkNhcmREZWZJZCI6IkFybW9yIn0seyJDYXJkRGVmSWQiOiJEcmFjdWxhIn0seyJDYXJk RGVmSWQiOiJLYVphciJ9LHsiQ2FyZERlZklkIjoiU2hhbm5hIn0seyJDYXJkRGVmSWQiOiJSZWRTa3VsbCJ9LHsiQ2FyZERlZklkIjoiSW5maW5hdXQifV19
As I mentioned earlier, Echo is not that interesting, so the deck that I selected is this Kazoo, where it will receive a buff from Kazar and that's it, that's basically its role in the deck.
As Echo is not so relevant to the deck, it's even strange to go into details of the list, but it's that basic idea of playing several low costs until your hand is empty and Dracula needs to be on the field to finally take the power of Infinaut or the Red Skull.
Legion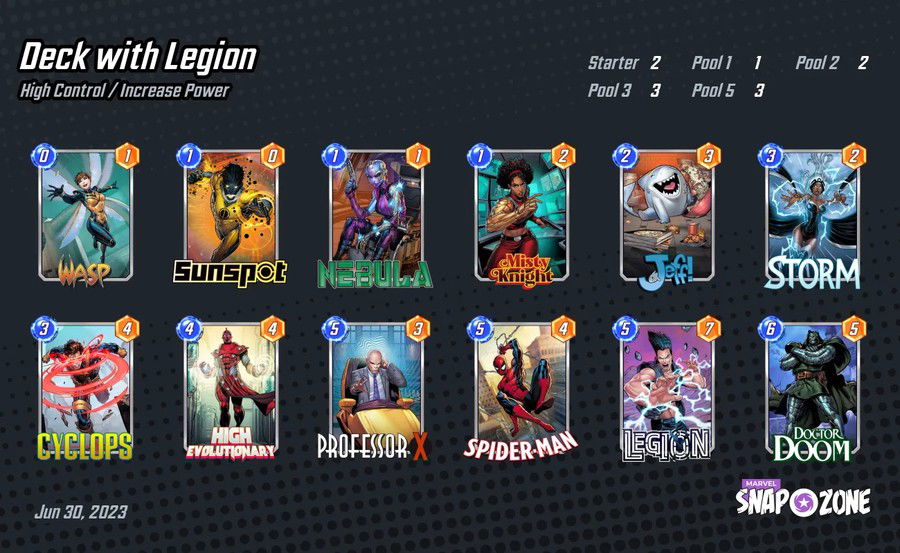 Code:
eyJOYW1lIjoiRGVjayB3aXRoIExlZ2lvbiIsIkNhcmRzIjpbeyJDYXJkRGVmSWQiOiJXYXNwIn0seyJDYXJkRGVmSWQiOiJTdW5zcG90In0seyJDYXJkRGVmSWQiOiJOZWJ1bGEifSx7IkNhcm REZWZJZCI6Ik1pc3R5S25pZ2h0In0seyJDYXJkRGVmSWQiOiJKZWZmVGhlQmFieUxhbmRTaGFyayJ9LHsiQ2FyZERlZklkIjoiU3Rvcm0ifSx7IkNhcmREZWZJZCI6IkN5Y2xvcHMifSx7IkNhcmREZWZJZCI 6IkhpZ2hFdm9sdXRpb25hcnkifSx7IkNhcmREZWZJZCI6IlByb2Zlc3NvclgifSx7IkNhcmREZWZJZCI6IlNwaWRlck1hbiJ9LHsiQ2FyZERlZklkIjoiTGVnaW9uIn0seyJDYXJkRGVmSWQiOiJEckR vb20ifV19
In this list, there is the possibility of the combo between Storm and Legion, which is basically the only interesting combo for Legion, but there are several other strong cards, since it is a High Evolutionary deck - then there is Cyclops, Misty Knight and Wasp.
If you can't do the Legion combo, at least there are several other ways to win, since lockdown lists are pretty annoying to deal with, especially the ones that have cards that gain power over time like Nebula and Sunspot.
Mirage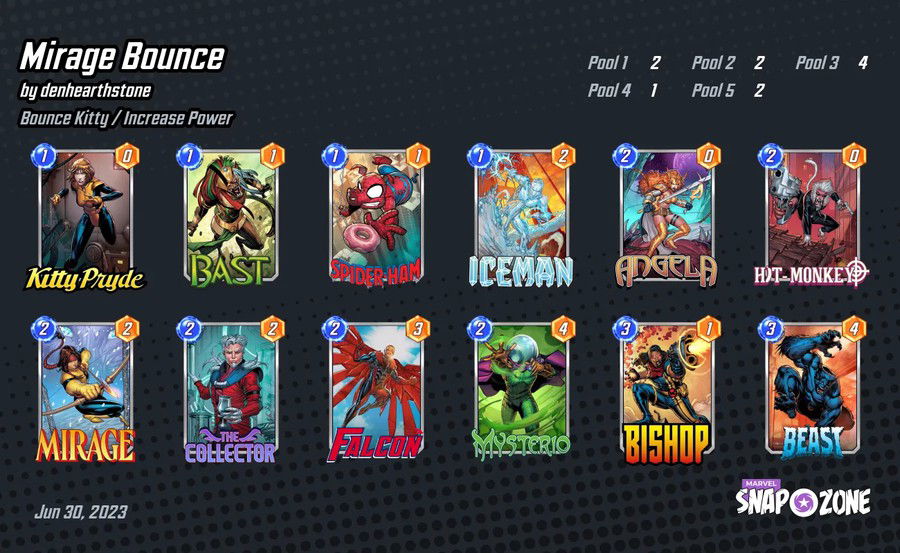 Code:
eyJOYW1lIjoiTWlyYWdlIEJvdW5jZSIsIkNhcmRzIjpbeyJDYXJkRGVmSWQiOiJLaXR0eVByeWRlIn0seyJDYXJkRGVmSWQiOiJCYXN0In0seyJDYXJkRGVmSWQiOiJTcGlkZXJIYW0ifSx7I kNhcmREZWZJZCI6IkljZW1hbiJ9LHsiQ2FyZERlZklkIjoiQW5nZWxhIn0seyJDYXJkRGVmSWQiOiJIaXRNb25rZXkifSx7IkNhcmREZWZJZCI6Ik1pcmFnZSJ9LHsiQ2FyZERlZklkIjoiVGhlQ2 9sbGVjdG9yIn0seyJDYXJkRGVmSWQiOiJGYWxjb24ifSx7IkNhcmREZWZJZCI6Ik15c3RlcmlvIn0seyJDYXJkRGVmSWQiOiJCaXNob3AifSx7IkNhcmREZWZJZCI6IkJlYXN0In1dfQ==
Here we have a standard Bounce list - there's not much secret, the difference really is the Mirage, which will bring even more points to the Collector and even bring more resources to your hand, as it will copy cards from the opponent's hand and increase their power by +2. So let's say the opponent has a Scarlet Witch in hand, you'll be able to play it with 5 power, which is great for a 2 cost card.
Conclusion
With the new card acquisition system, it will be easier to acquire these Pool 5 cards, so I want to know: which one of these are you most excited to play? I'm looking forward to playing with Mirage and Jean Grey, the other two I don't really intend to get.
Until the next time!